Registration closed at 9am on Monday 29 March 2021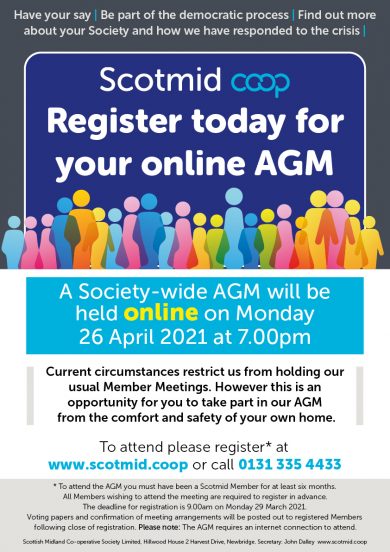 A Society-wide AGM will be held online on Monday 26 April 2021 at 7.00pm
Current circumstances restrict us from holding our usual Member Meetings. This is an
opportunity for you to take part in our AGM from the comfort and safety of your own home.
A Scotmid member meeting, such as the AGM, allows you to find out more about Scotmid, hear from other members and your member representatives and be a part of Scotmid's democratic process.
Should you have any questions, please contact Scotmid's Membership Team on 0131 335 4433 or email membership@scotmid.com.
Please note:
Our AGM this year will be held as an online digital event, and as such you will need access to the internet to partake. Confirmation of details on how to join the meeting on the night will be posted to you once registration has closed.
Members who have held a minimum shareholding of £1 since 26 October 2020 are eligible to attend and vote during the 2021 AGM.
All eligible Members wishing to attend the meeting are required to register in advance.
Voting on democratic Society matters will take place via postal voting in advance of the meeting. Ballot papers and confirmation of the deadline for returning your votes will also be posted to you once registration has closed.
Should you have any questions, please contact Scotmid's Membership Team on 0131 335 4433 or email membership@scotmid.com