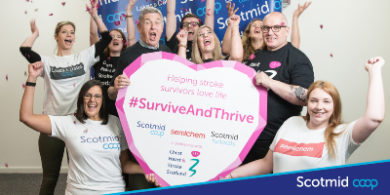 Applications to be considered for our Charity of the Year 2020/2021 have now closed.  
To apply to be our Charity of the Year please submit a proposal of no more than 6 pages of A4.  Your proposal should address the following criteria;
Detail  the account management arrangements including Team Biographies
Provide evidence of charity operations in our trading areas (Scotland, northern England and Northern Ireland)
Outline how the money raised will be spent  (across all our trading areas)
Explain how you plan to engage with staff (and supporting costings if applicable)
Provide proposals for practical and achievable merchandising sales (and supporting costings / timescales if applicable)
Detail how you would enthuse our staff, members and customers about your charity and encourage them to go the extra mile to raise funds.
Your proposal should be sent to membership@scotmid.co.uk before the deadline of  5pm on Tuesday 31st March 2020.
Useful information:
Scotmid Co-operative consists of over 177 Scotmid food stores, 80 Semichem stores, 9 Lakes & Dales co-operative stores and 17 funeral offices
Our stores span across Scotland, Northern England and Northern Ireland
Partner charities engage with our staff by going into stores to talk to staff and customers, attend the Regional Business Manager's store manager meetings (this is a meeting of all store managers in each region – we have around 300 store managers), are present our annual retail conferences and produce a partnership booklet is also produced to give to each store for reference to aid with fundraising.
We have internal newsletters and intranet as well as corporate and retail websites and social media pages
The fundraising target can change from year to year
If you have any further questions please contact the team via email at:
membership@scotmid.co.uk