Over 170,000 children in Scotland will learn about animal welfare through the Scottish SPCA's education programme thanks to a £141,000 boost at the half-way point during their Charity of the Year partnership with Scotmid Co-operative.
The fundraising amount achieved so far by the community retailer will help to create opportunities for 172,230 children to learn about animal welfare through Scottish SPCA's 'Prevention Through Education' Programme in over 1,000 schools across the country.
In 2018, the Scottish SPCA reached approximately 239,000 school children, so Scotmid Co-operative's fundraising efforts in the last six months alone will allow the charity to engage with approximately 72% of that total.
The charity partnership has raised £141,000 in the opening half of the year-long charity partnership to fund the Scottish SPCA's free schools initiative. The programme aims to improve both primary and secondary school pupils' knowledge about animals and their welfare needs through interactive workshops and encourages them to take an active role in their local community.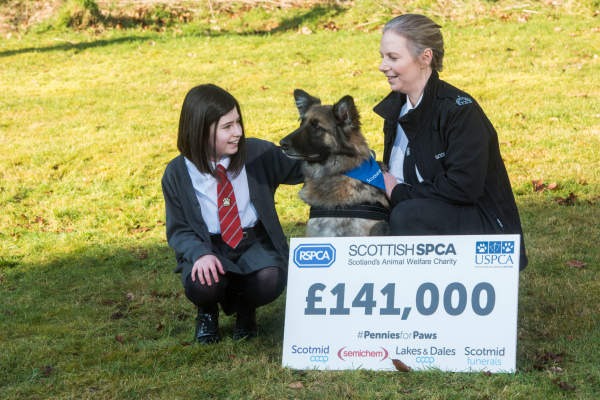 John Brodie, Chief Executive of Scotmid Co-operative, said: "The positive response shown so far by our members, staff and customers towards our charity partnership with Scottish SPCA has been phenomenal.
"To have reached such an impressive figure at the half-way stage is really encouraging and we look forward to seeing further fundraising activities come to life so that we can raise as many 'Pennies For Paws' as possible for a fantastic cause."
Scotmid has also partnered with several Scottish SPCA Animal Rescue and Rehoming Centres across the country to help encourage members and customers to rehome pets.
Kirsteen Campbell, Chief Executive of the Scottish SPCA, said: "In 2018, our education team visited more than 60% of Scotland's primary schools and reached just under 250,000 children.
"Prevention through education is at the heart of everything the Society does and the fantastic efforts of staff, members and customers at Scotmid Co-operative will help us to develop and grow our programme and engage with even more children in the year ahead.
"Demand for our services has never been higher, so the need to make sure Scotland's children have a strong grasp of animal welfare has never been greater. The funds and support from Scotmid will provide an invaluable contribution to the delivery of our education programme. A huge thank you to everyone who has helped raise money in the first six months of the partnership."
The charity's education programme continues to involve and introduced Robo Wunderkind in 2019, a tool which allows children to construct and code mechanical animals.
The introduction of these followed research produced in partnership between the Scottish SPCA and the University of Edinburgh which showed mechanical or soft toys could better educate children on animal welfare needs. The fundraising efforts of Scotmid will allow the Scottish SPCA to continue to innovate with its industry-leading programme.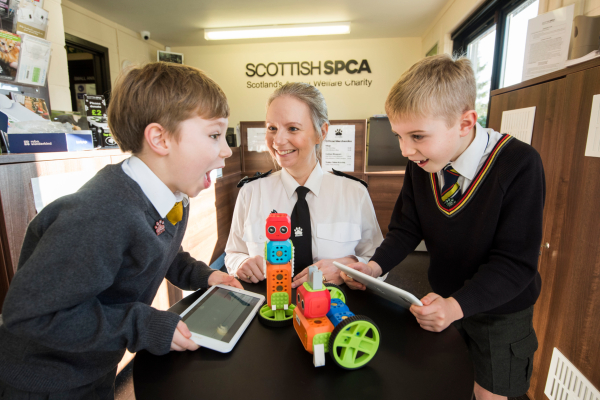 Main picture caption (left to right, back row): Aydin, Scottish SPCA Senior Education Officer Justine Noon, Anna, Scotmid store manager Claire Johnston, Anna, Semichem store manager Katrina Wright, Lara, Scottish SPCA Corporate and Trusts Fundraiser Ailsa Alcock, Max and Spencer. Front row (left to right): Scottish SPCA Animal Care Assistant Lori Downie, Lexi the dog and Scottish SPCA Care Assistant Rebecca Raitt
Middle image: Dundee schoolgirl Lara meets Lexi the dog with Scottish SPCA Senior Education Officer Justine Noon at the charity's Petterden centre.
Bottom image: Dundee schoolboys Spencer and Max are introduced to the charity's Robo Wunderkind programme with the help of Scottish SPCA Senior Education Officer Justine Noon at the charity's Petterden centre.