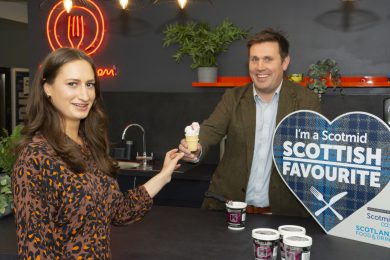 Scotmid is bringing a unique Raspberry Ripple Ice Cream, made from Buffalo milk, to stores.
Local communities will be able to purchase the product in store which, until now, has only been available from The Buffalo Farm in Fife.
Founded in 2005, The Buffalo Farm is the third of five Scottish businesses to win the Scotmid Scottish Favourites competition, which is giving the ice cream prominent shelf space in selected stores. The competition was launched in conjunction with Scotland Food & Drink to champion local producers and further demonstrates our commitment to Scottish sourcing.
The promotional listing will run for three weeks.
Steven Mitchell, Founder of The Buffalo Farm, spoke about what winning the competition means to his business:
How does it feel to be a winner of the Scotmid Scottish Favourites competition?
We are so excited to be able to see our Buffalo ice cream featured in Scotmid stores across the country and it's great to be recognised by such a prominent retailer in Scotland.
What does it mean for you as a business to have secured this listing?
We are first and foremost farmers and aim to produce the finest produce we can from our land here in Kirkcaldy – with our team, farmland, countryside and animals at the very heart of our business. This listing will provide us with the perfect opportunity to reach new customers who value incredible local produce just like we do.
What are you hoping will be the outcome of bringing your product to a new audience? What is special about buffalo milk?
With our Buffalo Ice Cream, produced from milk from our own herd, we believe customers will buy into the brand concept and then be amazed at just how good the product is. We know Scotmid will get a real sense of pride from championing an exciting new Scottish product that their customers will appreciate.
It's not your average ice-cream. How and why did the product come about?
Buffalo milk has several unique properties and we were looking for another way to add value to the product range.  With a slightly higher fat content than regular cow's milk, it is the perfect core ingredient to make our luxuriously rich ice cream.  Raspberry Ripple was the obvious choice, as one of the nations' favourite traditional ice cream flavours.
How and where do you make Raspberry Ripple Buffalo ice-cream? '
Our buffalo milk produces a richer, creamier flavour and texture over traditional ice cream.  Our Raspberry Ripple Buffalo ice-cream is made in our dairy factory in the heart of Fife.  We are growing our production on a weekly basis, which is driven by the volume our buffalo can produce. We offer a real field to fork (or spoon!) solution, with an incredibly short supply chain, from our farm in Fife to Scotmid stores.
Describe Raspberry Ripple Buffalo ice-cream in 3 words?
Scottish, smooth and flavourful
We know that Scotmid is committed to supporting the local community and local businesses, how do you support the local community?
We have an extremely loyal team of 80 employees who live in the local area, and we are very focused on supporting our local community. Over the years, we have supported numerous community initiatives with fundraising collaborations with schools, clubs and sports teams. We have also tried innovative fundraisers, such as where groups would receive part of our profits when their supporters used a specific Coupon Code through our website. The more people they encouraged to buy, the more money they raised. More recently, we are delighted to have chosen Hearts and Minds as our nominated charity for the next six months, a Scottish based charity that uses clowning to help children in hospital, people with dementia, and those with additional support needs. We are planning a number of fundraising initiatives to support their cause.
What is next for The Buffalo Farm?
We are very much at the start of our journey with The Buffalo Farm. However, it has the potential to become the next major brand in Scottish Food and Drink. We would love nothing more than to have Scotmid with us on our journey.
"We're so excited to be able to stock such an innovative and delicious product in our stores. It's great to be able to support The Buffalo Farm, expanding its presence from Fife to key regions in Scotland." Jessica Van Tromp, local sourcing manager.