Annual General Meeting – Edinburgh – 26th April 2023
Upward Mobility (UPMO) received the most member votes and were awarded £15,000. The runners up – Beacon Club Space & Broomhouse Hub and Drylaw Telford Community Association each received £5,000. CONGRATULATIONS to all three groups.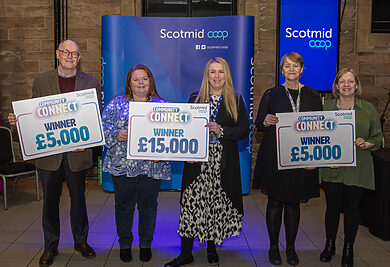 Ordinary General Meeting – Edinburgh – 3 October 2022
Love Oliver were awarded £15,000 while Edinburgh City Mission and The School Bank West Lothian both received £5,000.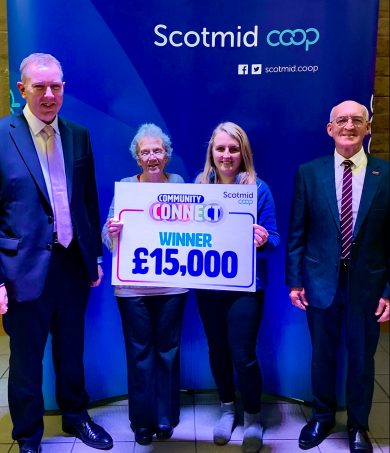 LoveOliver is a small charity which funds research into childhood cancer and provides practical support for families affected by it. They run a drop-in cafe at The Howat Hub, opposite Edinburgh's Children's Hospital, which is run solely by volunteers and is currently open 2 days a week, funding would be used to employ a full-time member of staff to allow the cafe to open full time.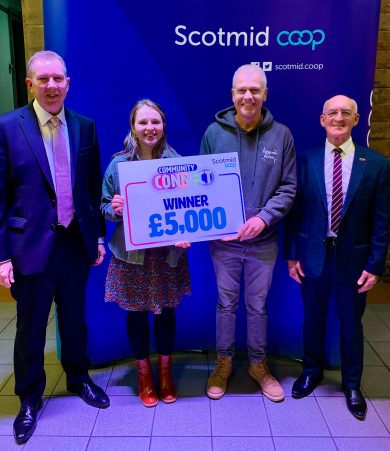 Edinburgh City Mission support the most vulnerable people living in the city, they provide outreach services to reach as many people as possible, offer befriending support and assist those who facing challenges in their lives. In Edinburgh 22% of households live on incomes below the poverty threshold and funding would be used to host a weekly sit-down meal service for those most in need.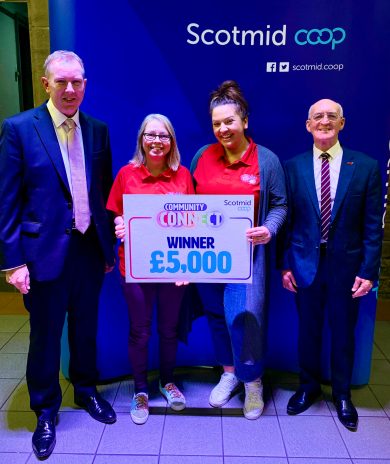 The School Bank West Lothian helps to reduce child poverty for families experiencing financial hardship in West Lothian. They confidentially supply school uniforms and other essential items on a referral basis and funding would be used to enhance the offerings provided to include pre-school children, a Winter jacket & shoes provision and reach more families as demand increases.
Annual General Meeting – Edinburgh – 25 April 2022
Sepsis Research – FEAT were awarded £15,000 while You're Never Too Old and Fet Lor Youth Club both received £5,000.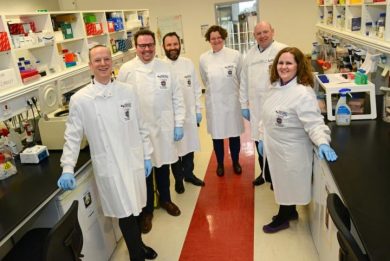 Sepsis Research – FEAT are based in the Roslin Institute at Edinburgh University, strived to identify why some people are more affected by sepsis than others. Sepsis is a life-threatening reaction to an infection when your body's immune system overreacts, which can quickly lead to multiple organ failure. Funding from Scotmid's Community Connect Award will be used to research genetic variants, target new treatments and improve survival rates for those affected.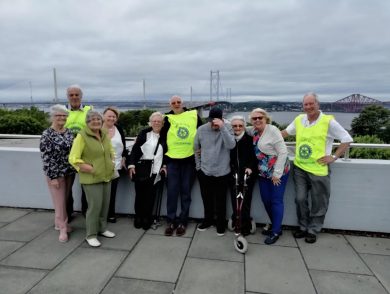 You're Never Too Old support older socially isolated people living in their own homes in the North West area of Edinburgh. Twice a week they provide transport for members to the club where they take part in stimulating activities, days out and enjoy a healthy light lunch together. Reducing isolation, making new friends and creating memories is at the heart of everything You're Never Too Old do. Funding from Scotmid's Community Connect Award will be used to help cover transportation costs and part of the salary of their only paid employee.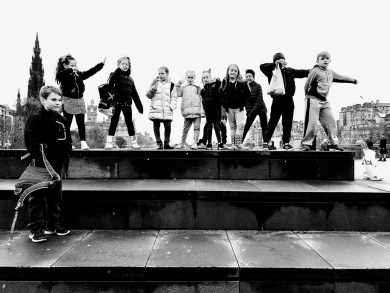 Fet Lor Youth Club provides services for children and young people between the ages of 7 – 17. Many children come from the most disadvantaged areas in North Edinburgh and some suffer challenges at home or do not attend school. Fet Lor offers them positive mental and physical support with free activities and a hot meal. Funding from Scotmid's Community Connect Award will be used to host the 2022 Summer programme which supports over 1000 people, where children and their families can spend time together and enjoy life changing experiences!
Ordinary General Meeting – Edinburgh – 27 September 2021
Edinburgh School Uniform Bank were awarded £15,000 while Therapet Canine Concern Scotland and Scottish Huntington's Association both received £5,000.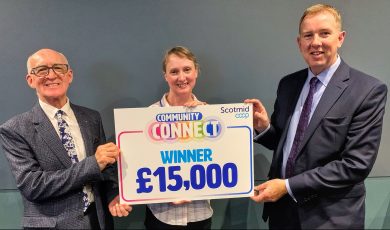 Edinburgh School Uniform Bank provides new school uniforms to vulnerable families in Edinburgh as well as redistributing nearly-new uniforms to schools and organisations in the area. Having a uniform helps to decrease any social isolation, potential bullying or poor mental health issues for a young person living in deprivation. Fitting in and being the same as their peers aids their attendance in school which has a positive effect on their lives and their future prospects. Support from Scotmid will be used to reach more young people who need a school uniform, a winter coat or suitable footwear.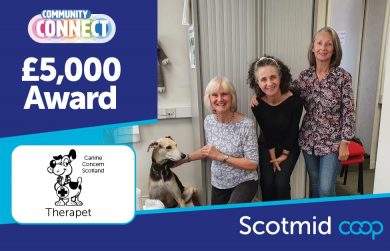 Canine Concern provides therapy dogs in Edinburgh for patients in hospital after a stroke or suffering traumatic brain injuries. Fondly known as Therapets the specially chosen dogs assist people who are learning to walk or talk again and they increase motivation to practice re-gaining their fi ne & gross motor skills as the patients automatically want to stroke the dog. Scotmid's support would be used to continue supporting patients rehabilitation, improve their mental health and expand the services to additional NHS specialists.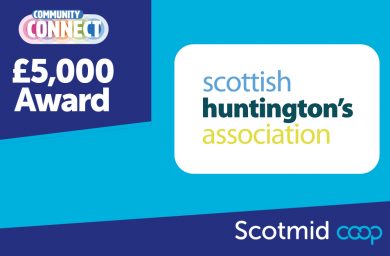 Scottish Huntington Association have supported families for over 30 years in The Lothians & Fife impacted by Huntington's Disease (HD); an incurable genetic condition where sufferers eventually lose the ability to walk, talk, eat, drink or care for themselves. Every child with a parent who has HD has a 50% chance of inheriting the condition and Scotmid's support will be used to provide 1-1 advice, peer group work sessions, youth mental health services and a range activities including a residential summer camp where young people can gain respite from their emotional burden and caring responsibilities.
Annual General Meeting – Edinburgh (Online) – April 2021
CCLASP at The Howat Hub, Citadel Arts Group and Venture Scotland were all awarded £8,500.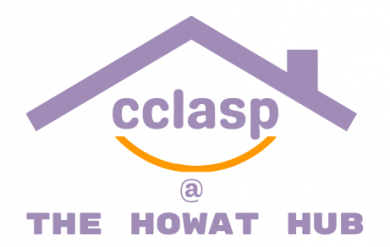 CCLASP at The Howat Hub is located just across the road from the Royal Hospital for Children and Young People. Built with the aid of a generous donation of £1m from the Howat Foundation, the Howat Hub is a centre of support, peace and relaxation – a home from home break from the hospital but on the doorstep.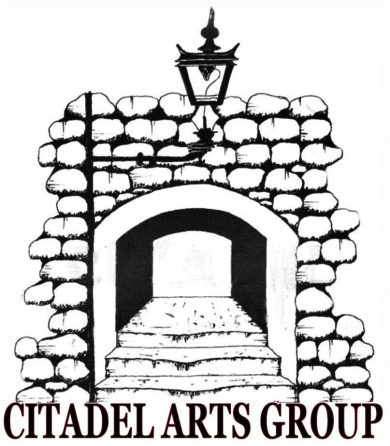 Citadel Arts Group works chiefly with older people, to promote creativity, make living theatre, preserve personal and community memories, and bring the generations together.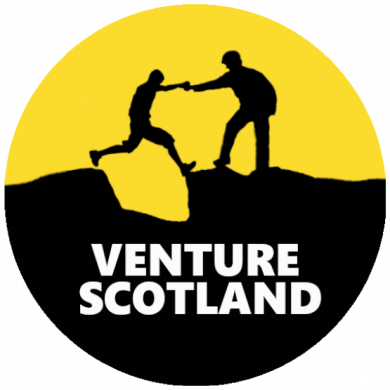 Venture Scotland supports young people in Edinburgh aged 16-30 who are struggling with their mental health. They use an intensive 12-month personal development programme based in the outdoors to boost positive changes and self-esteem.
Annual General Meeting – Edinburgh (Online) – October 2020
Kids Love Clothes, Community One Stop Shop and Street Assist were all awarded £8,500.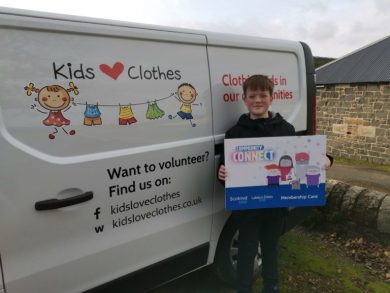 Kids Love Clothes are a Ratho-based and entirely volunteer-led charity who take donations of clothes from local people across the Edinburgh area. They work via referrals from health visitors, midwives and social workers and for every referral they receive they provide a wardrobe's worth of clothes for each child. They plan to use the Community Connect funding to purchase much-needed clothing for children and young people that urgently require them.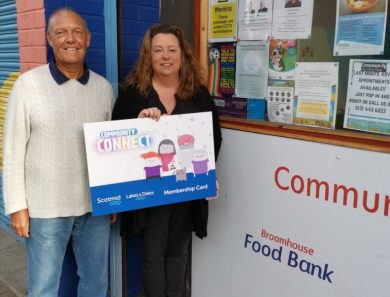 Community One Stop Shop are based in Broomhouse and aim to alleviate the effects of poverty, deprivation and support people through times of crisis. Community Connect funding would allow the charity to operate at weekends and open one night during the week – demand for their services increases every year and more than 3,000 people relied on their help during the past 12 months.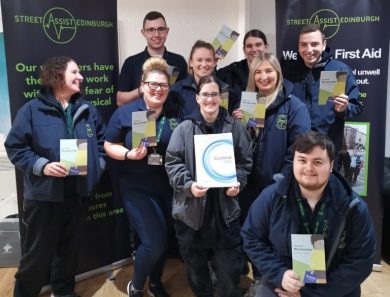 Street Assist Edinburgh provide non-judgemental welfare and first aid from 10pm to 4am every Friday and Saturday night in the capital's city centre and look after the physical and mental wellbeing of vulnerable people suffering from illness, intoxication, drug use or assault to make sure they are safe. The charity plan to spend any Connect funding on purchasing an additional vehicle to cover more of the city centre area in order to be able to reach more people.
Ordinary General Meeting – Edinburgh – 30 September 2019
SANDS Lothians were awarded £15,000 while Livingston's Carers of West Lothian and Craigmillar's Richmond's Hope both received £5,000.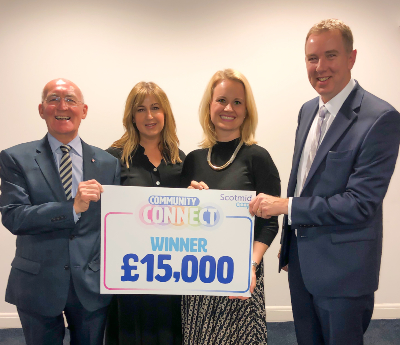 SANDS Lothians are based in Craiglockhart and support local bereaved families in Edinburgh and the Lothians who have lost their baby. The Community Connect award will be used to fund a specialist baby bereavement counsellor for a whole year.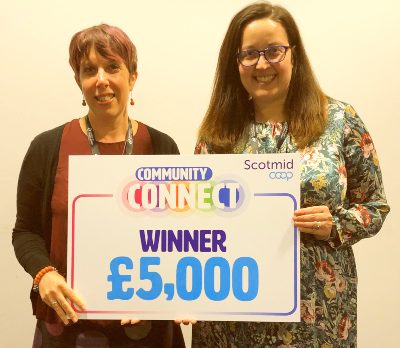 Carers of West Lothian are based in Livingston and support unpaid adult carers, young carers and people affected by a disability living in West Lothian by providing information and advice, signposting to other support services and holding peer support groups. Carers of West Lothian now plan to use the funding to bolster their Young People's Service – making a real difference to young carers, who are transitioning into adulthood, getting them into further education, training or employment with increased confidence and self-esteem.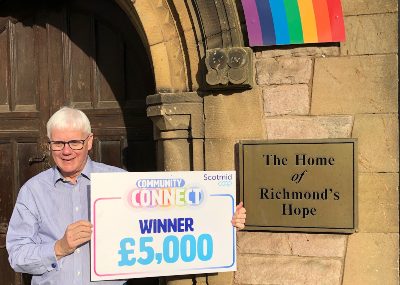 Richmond's Hope support bereaved children and young people aged between four to 18 in Edinburgh and the Lothians. Children and young people receive counselling on an individual basis with a bereavement support worker on a weekly basis for approximately 12-16 weeks or longer if required. The Community Connect award funding will go towards buying materials for the children's support sessions and contribute towards staff salaries, thus helping more bereaved children to receive support.
Annual General Meeting – Edinburgh –29 April 2019
Health in Mind were awarded £15,000 while Craigmillar's Venchie Children and Young People's Project won £7,500 and Dunfermline Foodbank received £2,500.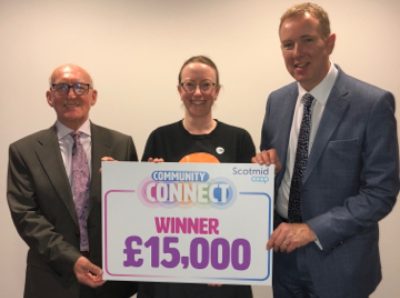 Health in Mind is a charity promoting positive mental health and wellbeing. The charity's unique mix of services includes befriending projects, information, counselling services and specialised trauma support. Community Connect funding will go towards the training of 100 volunteer befrienders who will be matched with at least 100 people throughout Edinburgh, Midlothian and the Scottish Borders who have become lonely and isolated as a result of mental health problems.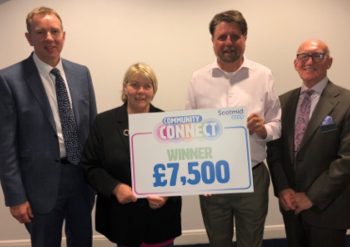 The Venchie are based in Craigmillar and have been supporting local families for 57 years and the charity's aim is to 'improve the lives of children and young people in Craigmillar by offering opportunities for education, social development, improved health and fun'. Currently they are working with 150 children per week in a variety of settings from Breakfast Clubs, After School Clubs and Drama Clubs and Venchie will use the funding to set up a dedicated parent and toddler club.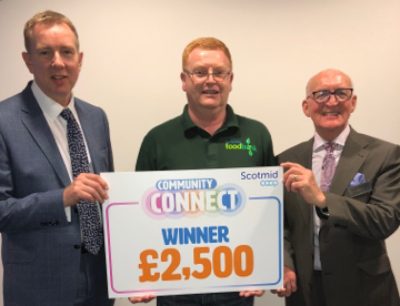 Supported by the Trussell Trust, Dunfermline Foodbank gives local people in food crisis a 'hand up, not a hand out' by providing three days' worth of nutritionally balanced emergency food as well as signposting clients to further advice agencies to help them in the longer term. The charity covers the whole of South and West Fife including Benarty, Cowdenbeath, Inverkeithing and Rosyth. In the past 12 months, Dunfermline Foodbank have fed over 5,000 people and with demand growing the charity will use the Community Connect funding to enable them to recruit extra volunteers, have a larger distribution warehouse and take on an additional member of part time staff.
Ordinary General Meeting – Edinburgh – 1 October 2018
Blood Bikes Scotland were awarded £15,000 while Harlawhill Day Care Centre won £7,500 and Broxburn Family Centre received £2,500.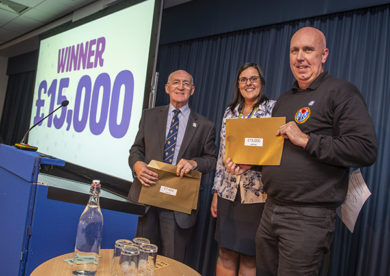 Blood Bikes Scotland based in South Queensferry, provide a professional, free and urgent courier service to Lothian and Borders hospitals and trusts. A small team of dedicated volunteers provide this service outside of normal office hours, removing the need for the NHS to use more expensive methods e.g. taxis and couriers. In the first year of operation they have saved the NHS £30,000. The team deliver urgent medical supplies, blood samples, baby milk, medication or test samples to Accident and Emergency departments, wards and home addresses. The team currently operate using four motorbikes and one scooter and the Community Connect funding will enable them to purchase a new motorbike to expand their services into Fife.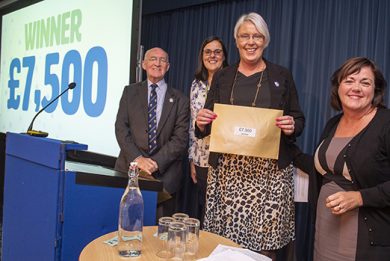 Harlawhill Day Care Centre, based in Prestonpans, provides elderly and vulnerable people with a quality day care service which aims to help them remain independent in their own homes for as long as possible. The team use a specially adapted bus to transport attendees from their homes to the day care centre, providing social contact and stimulation in homely surroundings. The Community Connect funding will be used to enable short stays for patrons at a specially adapted home in East Lothian; undertake a new project where a professional musician will work with the patrons to listen to their life stories before writing and recording songs based on that story; or to organise a summer outing for all attendees of the centre which would allow them the rare opportunity to spend the day with people in a similar situation to themselves.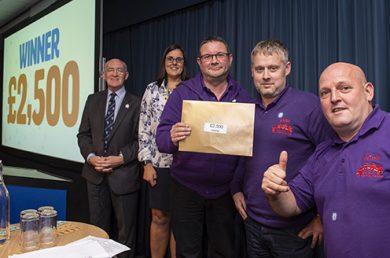 Broxburn Family Centre have supported the West Lothian Community for twenty one years through their Range Adventure Playground which attracts up to 600 people at any one time. The Playground features indoor and outdoor play areas for all ages and abilities with a particular focus on targeting children who are experiencing difficulties. Families are free to visit and enjoy the facilities anytime but the facility really comes alive when the team run their free of charge drop-in play sessions. The team set health and wellbeing goals for children who attend with the aim of giving them 'Awesome Childhood Experiences' which improve confidence, self-esteem, social skills and physical/mental wellbeing. The Community Connect funding will enable a series of maintenance works to be completed across the playground to ensure that the next generation can benefit from it.