Crowds gathered  at SCOTMID co-operative's Ratho Station store today as Arlene Stuart from Forth One breakfast show, Forth One, officially opened The Kitchen, Scotmid's first 'Food to Go' provision.
The Kitchen offers quality, wholesome fresh food at good prices and the varied range includes healthy options such as porridge, salad pots and lighter sandwiches through to hot meals and pizzas. 
Customers can also pick up 'grab and go' freshly made sandwiches as well as the option of 'made to order'.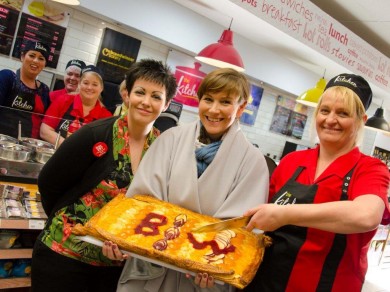 Arlene said: "The Kitchen is a wonderful idea and will provide extra value for customers and a way for them to enjoy really healthy and appetising produce from well-known local suppliers which is freshly prepared, allowing them to grab food on the go."
The award-winning Breadwinner Bakery bakes many of the artisan breads and rolls for the filled sandwiches and rolls and Stephens the Baker supplies us with their award-winning pies and savouries.
Stephen Brown, Scotmid's Bakery and Local Sourcing Manager, said: "Following extensive customer research on further provisions that could be offered instore, the feedback we received overwhelmingly requested a range of meal offerings available throughout the day, from breakfast through to evening meals.  
"Most importantly, customers asked us to ensure they could get served and pay as quickly as possible and therefore we have installed a dedicated Food To Go section, distinct from the standard counter area. 
"The product range offers daily specials to keep the range interesting for customers and will evolve with the seasonality of the products."
Ratho Station is the first of three trial stores opening over the next 5 weeks, which will be followed by the Carrick Knowe and Kingsknowe SCOTMID co-operative stores.