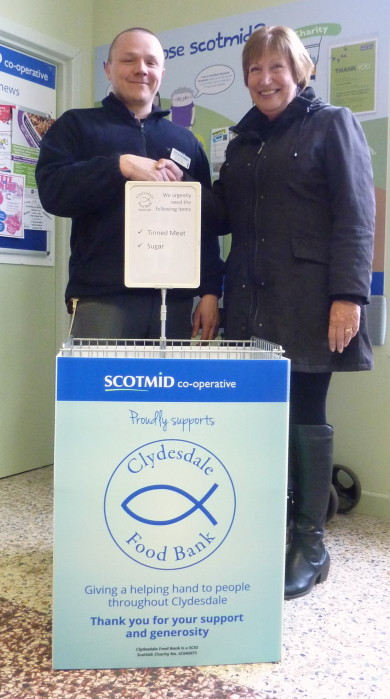 Scotmid Co-operative has introduced donation collection bins in its Carluke and Law stores as part of a three month pilot, working in partnership with Clydesdale Food Bank. 
Customers will be advised each week on the priority items required and are encouraged to donate as many items as possible to meet demand. 
If the trial proves successful, Scotmid will explore rolling it out acrossmore stores in the area.
Liz Paton, Clydesdale Food Bank Co-ordinator, said: "We are grateful to Scotmid for providing collection points in Carluke and Law. Every item provided will help those in food poverty in Clydesdale. We hope that this pilot will be a success."
Yvonne Goodfellow, Membership & Community Officer for Scotmid Co-operative's West Region, said: "The foodbank is wholly reliant on donations from the public. We are delighted to be able to support Clydesdale Food Bank in this way to make it very easy for customers to help support local people in crisis in a simple and practical way. Clydesdale Food Bank delivers support to homeless people going into council tenancies by providing Home Starter Packs, furniture, wellbeing packs, hygiene packs and emergency food packs. 
The charity was set up by the Church of Scotland in Carluke, with the support of New Beginnings Clydesdale, in March 2013. Since then, it has become an independent charity and in January 2015 it opened new premises in Carluke High Street. 
The food bank has 8 volunteers in the main Carluke office, with a further 30 local residents delivering food parcels to Blackwood, Biggar, Douglas, Kirkmuirhill and Carstairs.