Pupils from the North East of Scotland learnt all about making healthy choices and trying out new foods recently when Cook for It!, created by The Edinburgh International Science Festival in partnership with Diabetes UK, visited schools in Aberdeenshire.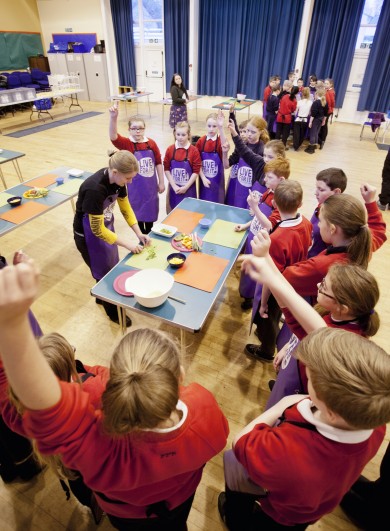 Cook for It!, sponsored by Scotmid Co-operative, is the third workshop in the Live for It! series and encourages pupils to make healthy eating choices. Pupils try new foods and create their own healthy snacks in this hands-on cookery workshop. Building on their experiences in previous workshops, pupils explore food and food labelling to help them eat a balanced diet and make healthy choices, avoiding life changing conditions such as diabetes.  
Pupils in Aberdeen, Fraserburgh, Sandhaven and Rosehearty were given a hands-on opportunity to explore new tastes, textures, scents and recipes. Students get to test the PH level of fruits and vegetables, learn how to use knives safely, make their own smoothies and are given a recipe book packed full of healthy recipes to try at home.
Malcolm Brown, Head of Corporate Communications for Scotmid, said: "Scotmid welcomed the opportunity to help young people learn valuable cooking skills which they will need in later life.  In order to prevent ill health, obesity and the onset of conditions such as diabetes, young people need to know how to prepare meals which are nutritionally balanced and inexpensive.  I am sure the children will benefit greatly from the Cook for It! sessions."
Simon Gage, Director of the Edinburgh International Science Festival said: "As the premier science outreach provider in Scotland, we are delighted to continue our series of healthy eating workshops across Scotland, which has been made possible through the generous support of Scotmid Co-operative." 
For more information on Edinburgh International Science Festival, visit www.sciencefestival.co.uk