15 plucky Scotmid staff members took a high dive off Clydebank's Titan Crane at the weekend on behalf of blood cancer charity Anthony Nolan.
The 'Scotmid Lifesavers' undertook the 164 foot freefall to raise over £3000 which will go towards helping Anthony Nolan to find matching donors for those who desperately need a bone marrow transplant.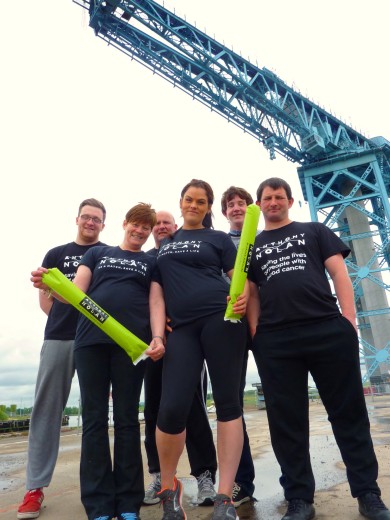 Kenny Watson, from Scotmid's Clydebank store, said: "We decided to do the bungee jump as the Titan Crane is such a famous Clydebank landmark; in fact we can almost see it from our store. So we thought it was the ideal fundraiser for us to do for Anthony Nolan". 
Lila Dowie, Senior Corporate Partnership Manager for Anthony Nolan, said: "'We are so overwhelmed with all of Scotmid's support of Anthony Nolan and yet again, staff surprise and amaze us by doing this mass bungee off the Titan Crane no less!  We just can't thank them enough." 
The partnership between Anthony Nolan and Scotmid Co-operative – including its brands Semichem, Lakes & Dales Co-operative and Scotmid Co-operative Funeral Directors – has seen more than 5,000 Scotmid staff at 350 stores transformed into the 'Scotmid Lifesavers' in a bid to raise funds and awareness for the charity. Scotmid has set itself a fundraising target of £200,000 for the year-long partnership.
Anthony Nolan uses its donor register to match potential bone marrow donors to blood cancer patients in desperate need of a bone marrow transplant. At present, less than 60% of patients in need of a bone marrow transplant can find a perfect match.
Find out more at www.anthonynolan.org/scotmid.