We are delighted to be able to link up with St Catherine's Primary in Gracemount to serve up healthy breakfasts for up to 80 kids every morning, following a donation of £1,290 to sponsor the Breakfast Club.
Research shows that a good breakfast can help kids concentration, confidence and energy levels in the classroom, which is why we were delighted to get involved.
The Club not only provides the kids with a healthy, nutritious breakfast, but has a mix of activities and games for them to take part in and a quiet homework room, setting them up for a great start to the day.
The partnership, will also involve working closely with pupils on their Fair Trade projects, including their monthly Fair Trade stall and sharing Fair Trade best practices.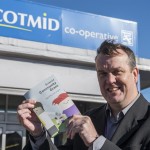 Paul Hunter, Head Teacher at St Catherine's Primary School, said: "We are hugely grateful to receive this much needed funding from Scotmid to keep our Breakfast Club going as it helps us to ensure our pupils start their day in the best possible way, both nourished and hydrated and ready to engage in their learning.
"To establish strong links with businesses like Scotmid in the community is great for our school and of course the pupils. This lets them see first-hand the benefits which can be made when the local business community and school come together to make a difference to people's lives."
Patricia Edington, Scotmid Co-operative Membership and Community Manager, said: "We are delighted to be able to support the Breakfast Club at St Catherine's Primary School and provide pupils with a nutritious breakfast to kick-start their day, especially if it helps increase their energy and attention levels in class and improve their overall attainment.
"The Club, which has a great atmosphere, is also an excellent way for the children to socialise at school, and lovely for us to be a part of."
The Scotmid Breakfast Club donation was applied for by Paul through their Community Grant scheme, which helps deserving causes across Scotland. Over the last three years, Scotmid has supported over 1400 projects, which have touched the lives of people living in the communities they serve.
Community Grant forms can be picked up at any Scotmid store or to obtain further information about the scheme, check out here