Scotmid Co-operative has raised £315,000 for Samaritans during a year-long fundraising drive by the community retailer – funding 63,000 calls for the charity.
Employees, members and customers from Scotmid, Semichem, Lakes & Dales Co-op and Scotmid Funerals took part in different activities over the past 12 months in a bid to raise money for the charity. Events included an indoor cycleathon with Mark Beaumont, a yoga event with Adam Husler, quizzes and even a sponsored zip slide.
Stores across Scotland also took part in Samaritan's 'Brew Monday' and sold copies of the Radio Forth One 'Kid in the Kitchen' joke books and a limited edition pack of Grahams Cupcakes.
Samaritans responds to over five million calls for help each year. With 2,000 trained volunteers across Scotland, Ireland and Northern England, they offer a safe space for people to access support 24 hours a day. Contacting the charity is free and funds raised from the partnership will help Samaritans answer 63,000 of these calls for support.
Harry Cairney, President of Scotmid Co-operative, said: "We're delighted to have achieved such a phenomenal final fundraising total for Samaritans; £315,000 is a fantastic sum of money and will go towards making a significant difference to the charity.
"As a co-operative, our core purpose is to serve our local communities and improve people's everyday lives, which is why our year-long partnership with Samaritans has been so relevant.
"Sadly, suicide claims the lives of 6,000 people in the UK every year – extraordinary problems affecting ordinary people in everyday situations, which underlines the importance of the service that Samaritans provides.
"Talking to a helpline like Samaritans can help to save the life of someone, who is struggling to cope. So to learn that the final total will go towards funding 63,000 calls is incredibly good news. We're proud that Scotmid have helped Samaritans to be there when it matters.
"During the partnership with Samaritans, we have been educating colleagues and customers about the vital work that the charity does and have been overwhelmed by the support in reaching our fundraising goal. As well as raising money, we hope that the partnership has played a part in easing the stigma surrounding mental health."
James Jopling, Executive Director, Samaritans Scotland said: "Everyone at Samaritans is delighted that Scotmid Co-operative have raised a wonderful £315,000 across our year-long partnership.
"Someone contacts Samaritans every six seconds and we know that each call has the capacity to change, or even save someone's life. So we can't thank Scotmid enough for helping us to be there when it matters for those who need us.
"We can all play our part in being there for those in our communities who may be struggling. And through the last year we are delighted that Scotmid staff, customers and members have learned more about the power of listening and reaching out."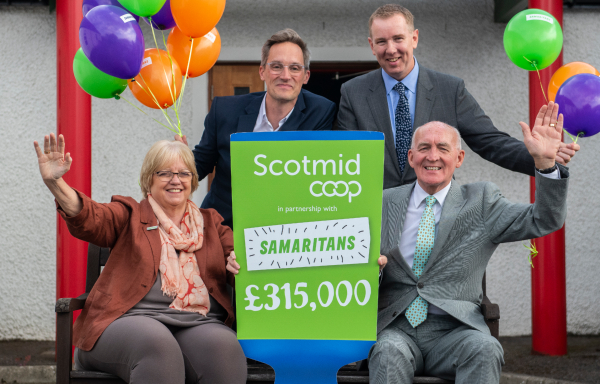 About Samaritans:
Samaritans responds to more than 5.4 million calls for help every year, offering emotional support by phone, email, text and face to face in its 201 branches across the UK and Republic of Ireland.  For more information, please see www.samaritans.org.
Three times more people die by suicide than are killed in road accidents in the UK. Our specially trained volunteers provide non-judgmental emotional support to anyone who is finding it hard to cope.
You can contact Samaritans in confidence at any time from any phone for FREE on 116 123, even from a mobile without any credit, and the number won't show up on your phone bill. Or you can email jo@samaritans.org or go to www.samaritans.org to find details of your local branch.