Environmental charity Keep Scotland Beautiful has presented Scotmid with a Gold level National Award for Environmental Excellence® – the business standard that enables organisations to benchmark their environmental achievements and improvements.
The accolade recognises the dedication of Scotmid Co-operative in maintaining a clean, clear and welcoming Head Office, and the work being undertaken by the team in supporting local groups and charities.
In presenting the award, Keep Scotland Beautiful commended the organisation on its environmental practices, including electric vehicle charging points for staff and the public, and the use of solar panels.
To celebrate, Scotmid welcomed Pete Leonard from Keep Scotland Beautiful to our Head Office in Edinburgh, where he presented Maurissa Fergusson and Katrina Anderson with the award.
Maurissa Fergusson, Scotmid Co-operative's Head of Property and Development, said: "We're really pleased to be presented with this Environmental Excellence Award and to reach the Gold standard is an achievement that we can all be proud of.
"We've made a real effort to improve how our collective behaviour can be more environmentally friendly and small gestures such as the introduction of reusable coffee cups has already made a noticeable difference."
The Environmental Excellence Award scheme is open to companies and organisations throughout Scotland and acts as a benchmark for corporate environmental performance. All entrants are assessed by the Keep Scotland Beautiful Local Environmental Quality Team and can be awarded Bronze, Silver or Gold level.
Pete Leonard, Operations Director at Keep Scotland Beautiful, said: "Keep Scotland Beautiful is working to engage businesses and organisations across Scotland, helping them to recognise that they can address environmental impact and supporting them in taking direct action. The Environmental Excellence Awards provide an exciting opportunity to assess and recognise their efforts.
"The achievements of Scotmid Co-operative are outstanding. Achieving a Gold Award on their first ever audit is a fantastic feat. We hope that we can help many more in the sector meet such high standards."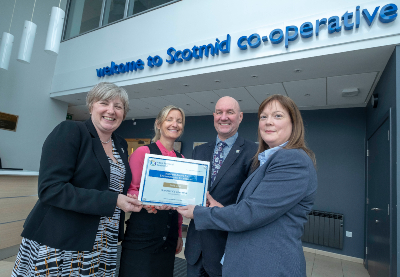 Throughout Scotland, over 130 business locations, from shopping centres, leisure and cultural trusts to train stations and ports, have been audited for a National Award for Environmental Excellence. Further information on the awards, and how to enter can be found at: www.keepscotlandbeautiful.org/environmentalexcellenceaward