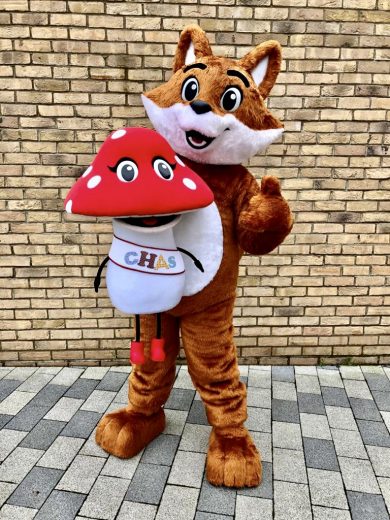 Two primary school pupils were given an early Christmas surprise when they came face to face with a larger than life 3D version of their own winning mascot design.
The competition, which was run by Scotmid and its charity partner, Children's Hospices Across Scotland, better known as CHAS, invited children across Scotland to create a new character to become the face of Scotmid's charity partnership.
After receiving more than 2,000 entries, the decision was made to have two winners instead of just one.
Cuthbert the Fox and his puppet pal, Tildy the Toadstool, surprised Peyton Gallagher (11), a P7 pupil at Blairdardie Primary School in Glasgow and Sophie Cairney (11) a P7 pupil from Lairdsland Primary School in Kirkintilloch.
Lynne Ogg, Scotmid Communities Manager, explained, "We were overwhelmed by the response to our competition. Picking just one mascot seemed impossible so we picked two to represent our charity partnership with CHAS! It was so exciting to surprise both Peyton and Sophie with their winning designs – we hope our mascots will continue to bring smiles to faces for years to come."
As well as seeing their winning designs brought to life as a full-size mascot and fluffy friend, Peyton and Sophie each received an A3 framed print of their character, £200 of fundraising vouchers for their school, and a goody bag full of exclusive mascot merchandise.
Peyton Gallagher from Blairdardie Primary School said: "I was so excited when I saw Cuthbert in real life – it was such a great surprise! Seeing him as a full size character was even better than I hoped.  I hope he will make lots of other children as happy as he has made me!"
Sophie Cairney from Lairdsland Primary School said: "I still can't believe I was picked as one of the winners. Coming face to face with Tildy as a giant cuddly toadstool was brilliant.  I designed her using lots of bright colours and seeing her brought to life was really special. I think she makes a great sidekick to Cuthbert the Fox and I can't wait to see them out and about next year!"
Nicky Bridges, Associate Director of Outreach at CHAS, said: ­"We were really impressed by Peyton and Sophie's designs and we hope that the fun and friendly Cuthbert and Tildy will bring some joy to those we provide essential care to. We are extremely grateful to the huge efforts made by Scotmid and everyone who entered the competition to make this happen.".