25 February – 10 March 2019
Fairtrade Fortnight returned in February and despite the snow Scotmid got involved! Scotland has been a Fairtrade nation since 2013 and Scotmid Co-operative actively supports Fairtrade Fortnight. Supporting Fairtrade guarantees a fair deal for farmers and producers in the developing world.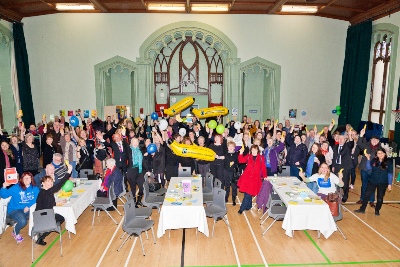 Choose Fairtrade products
We're proud to stock Fairtrade products in all of our Scotmid Co-operative stores. From Fairtrade bananas to chocolate, tea to coffee, there are so many ways to support Fairtrade when you shop at Scotmid.
Take part in a Fairtrade event
This Fairtrade Fortnight, Scotmid Co-operative supported community events across Scotland to promote Fairtrade –Scotmid supported the Edinburgh Festival event at the Out of the Blue Drill Hall.
Go bananas for Fairtrade
Bananas are at the heart of Fairtrade Fortnight this year. Bananas are the most popular and most traded fruit in the world, but still only one in three of all bananas sold in the UK each year are certified as Fairtrade. You can do your bit by only buying Fairtrade bananas. We're proud to only sell Fairtrade bananas at Scotmid Co-operative.
Go for Fairtrade status
Did you know that your school, town and city can achieve Fairtrade status? Scotmid Co-operative is proud to have helped many schools and places across Scotland achieve their Fairtrade accreditation. We can provide support and useful resources to get you there. Find out more here.
Other ways to get involved
Here are some other ideas for how you can support Fairtrade Fortnight with Scotmid:
Enjoy a Fairtrade banana on toast for breakfast
Relax with a cup of Fairtrade tea or coffee, with a spoon of Fairtrade sugar
Indulge in a bar of Fairtrade chocolate and a glass of Fairtrade wine
Surprise someone special with a bunch of Fairtrade roses